The benefits of trademark monitoring are immense nowadays. While registering a trademark is definitely a huge success, the work does not end here. After the federal trademark registration, the next important step is trademark monitoring of identical trademarks.
          In this article, we will discuss the benefits of trademark monitoring. Along with benefits, we will also discuss and how it is extremely important for your brand or company. But before understanding its benefits, let us first see what is trademark monitoring?
Also Read: The 5 Key Benefits of Hiring a Trademark Registration Consultant
What is Trademark Monitoring?
Trademark monitoring, also known as trademark watching is one of the most important tools in the domain of intellectual property. More than just a tool, it is a whole process that helps companies and individuals detect trademark infringement and confusable trademarks. Thus, trademark monitoring helps to track:
Already registered trademark
Soon-To-Be-Registered Trademark, i.e., potential trademarks
This detection is possible before their publication in trademark official gazette
Why does your company need Trademark Monitoring Services?
For a company, its trademark is one of its most important assets. Not only does it build the company's reputation, but also brings immense value driving a customer base to the brand.
As the number of filed (potential) and registered (existing) trademarks has increased manifold, so has the chances of conflicting trademarks. As a result, the need to minimize the risks of trademark infringement has become critical for a company. Moreover, an infringement should be highlighted before trademark is published in trademark official gazette.
Also Read: What is the Trademark Registration Cost?
What are the key benefits of Trademark Monitoring?
Monitoring your trademark for potential infringement has many benefits. We have listed some key advantages of trademark monitoring here: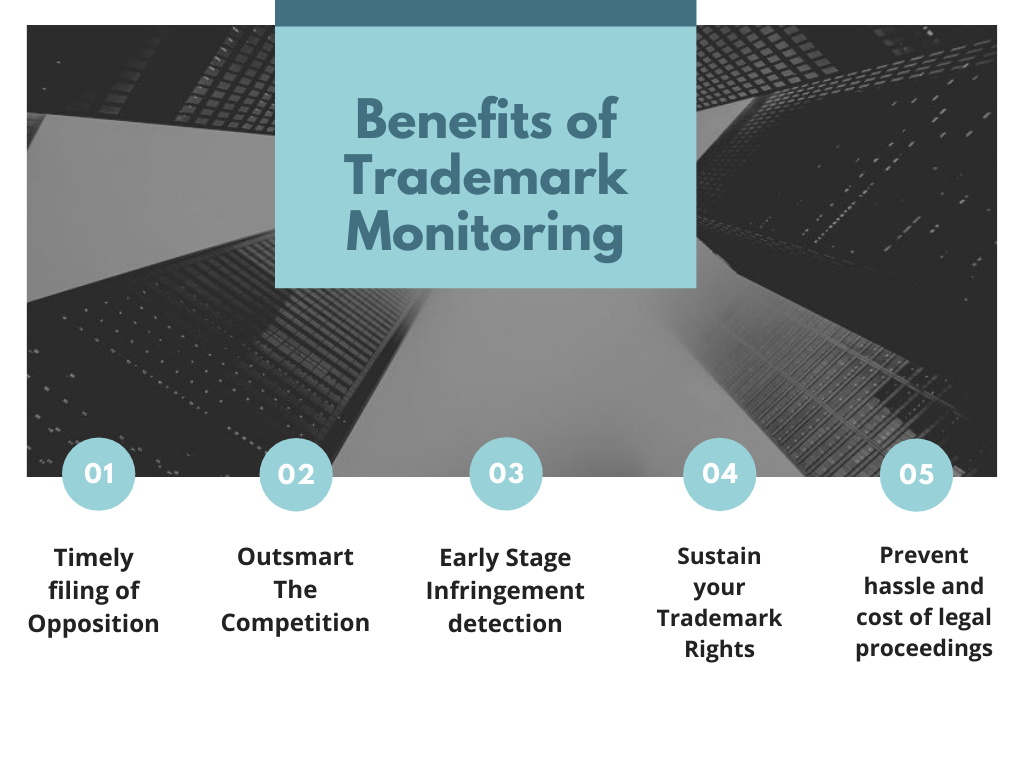 Timely filing of Opposition
Trademark rules vary from country to country. However, in many jurisdictions, a statutory trademark opposition period is mandated for filing the opposition. Filing after the opposition deadline is generally quite costly and time-consuming. An effective trademark monitoring helps to detect potential infringers, helping to initiate legal action without paying extra fees. 
Prevent hassle and cost of legal proceedings
If you are not availing of a trademark monitoring service, then the chances of getting confusable marks registered are high. This is also a reason why the filing of opposition on time is important. In the case of trademark infringement, the costs and hassle with litigations are very high. This is why it becomes necessary to monitory and thus protects your mark. This applies even for low priority or less valuable trademarks. There are high chances of a currently low-priority trademark getting in demand in the future.
Outsmart The Competition
Along with protecting from trademark infringement, trademark monitoring is also useful in monitoring your competitor's filing and trademark. This is advantageous especially if you want to keep a close eye on the new brands and their commercial products. Having an idea about your competitor's business activity and product strategy will keep you ahead in the market.
Also Read: Complete process of Trademark Filing in India | Your Trademark Team
Early Stage Infringement detection
If potential infringement is detected at an early stage, the further process becomes much easier and less hectic for the trademark attorney. Not only this, early detection also helps the company about the future technology and its prospects. As a result, the company can frame its business strategy accordingly.
Protect your Company's Reputation
Attempts by competitors to register identical or similar marks may downgrade your company's reputation. Protection from trademark infringement also means protection of your business or company. Therefore, trademark watching services will save your company from any potential loss of reputation.
Sustain your Trademark Rights
With the rise in the intellectual property field, a rise is observed in its violation as well. If you want to maintain your rights over your trademark, then watching your trademark is mandatory. Trademark watch will ensure that the information on any similar trademark is available beforehand. Thus, one should diligently monitor their trademark to protect it from any unauthorized use or attempt to register similar marks.
If you or your company is a trademark owner, then it is your responsibility to enforce trademark protection. You can avail trademark monitoring service from us. Our accurate trademark database and expert professionals provide the best trademark monitoring services. However, trademark rights are not just about trademark registration. Trademark rights extend as far as to trademark monitoring of similar and soon-to-be-registered trademark. The only responsibility of trademark registration offices is application assessment and registering marks. There are many cases where even trademark offices misses the likelihood of confusion. Such chances of confusion include identical and similar trademarks along with phonetically similar trademarks. In such cases, even trademark office approves trademarks similar to already registered trademarks. To protect your trademark from infringement and initiate litigations before trademark opposition period, trademark monitoring becomes imperative. 
Why Choose Us? – Your Trademark Team
You invest a lot of time and money in building your brand. These efforts go in not just creating your logo or trademark, but also in brand promotion and development strategy planning. Before putting so much effort, it is wise to ensure that they are going in the right direction.
Your Trademark Team (YTT) is one stop solution for trademark owners. Our team of professionals with years of experience in the trademark filing process provides the best trademark registration services. If you want to register or monitor your trademark, YTT with its world-class facilities and professional expertise would help you in doing so. Our trademark monitoring service is top-notch as we use advanced search engine and accurate trademark database for analytic review. We follow a rigorous and comprehensive trademark monitoring procedure. We file quick and easy trademark application for you at an optimal cost. Our team also provides timely notifications to our clients at each step. YTT is well aware of every guideline and the latest trademark laws to ensure our client's trademark safety. We will also report you with the proper updates. If you have trademark monitoring query or want to avail of our services, Visit Your Trademark Team.  
More Relates Articles
ROLE OF TRADEMARK MONITORING IN KEEPING YOUR BRAND SAFE
3 Important Things about Global Trademark Search
Trademark Infringement: How to Eliminate the Risk Successfully